Buckingham Palace has issued a statement in response to the Duke and Duchess of Sussex's interview with Oprah Winfrey, saying issues of race are "concerning" and "will be addressed".
Following the explosive interview airing in full on UK television last night, a palace spokesman said "The whole family is saddened to learn the full extent of how challenging the last few years have been for Harry and Meghan.
"The issues raised, particularly that of race, are concerning. Whilst some recollections may vary, they are taken very seriously and will be addressed by the family privately.
"Harry, Meghan and Archie will always be much loved family members."
Meghan told Oprah there were 'several conversations' about her son Archie's skin tone

It comes after fallout continues from the remarkable programme, which debuted on CBS in the US on Sunday night and was aired in the UK last night.
What did Meghan and Harry say in the interview?
The duchess claimed that one member of the Royal Family had had "several conversations" with Harry about their child's skin colour and "what that would mean or look like".
The couple refused to reveal who had made such comments, but Winfrey has since said that Harry told her it was not Prince Philip or the Queen.
She also revealed she had suicidal thoughts, saying "I just didn't want to be alive any more", and denied reports she had made Kate cry ahead of her wedding, claiming "the reverse happened".
Prince Harry admitted to a rift with his father and said Prince Charles had stopped taking his calls for a while when the couple left for a new life in America.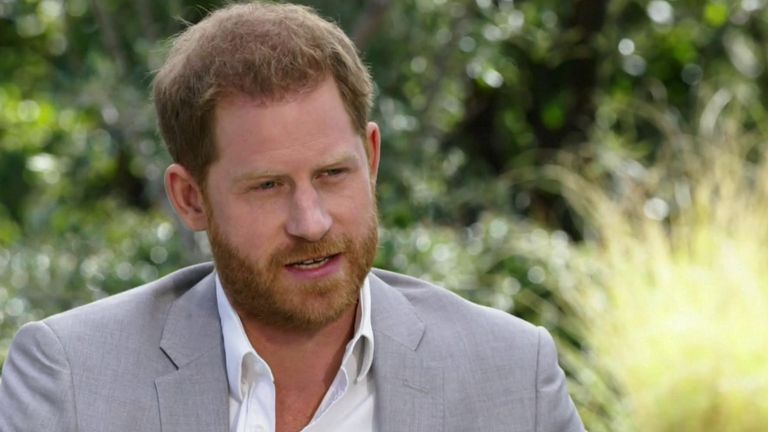 The Duke of Sussex also claimed he had been "trapped" in the royal system – "like the rest of my family".
The couple also told Winfrey they were expecting a girl and spoke of their "fairytale" life in California.
What's been the reaction so far?
In the UK, the front pages of Tuesday's newspapers were dominated by reaction and fallout to the royal rift with headlines including "Worst royal crisis in 85 years" and "Palace in turmoil over Meghan's racism allegations".
Meghan's father, Thomas Markle, told Good Morning Britain those allegations could have been "just a dumb question" and criticised the timing of his son-in-law and daughter's interview, with Prince Philip still in hospital.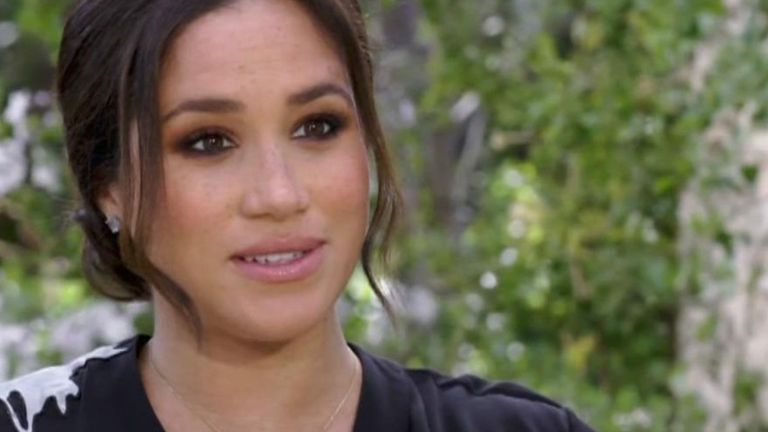 Following the programme's broadcast, a YouGov opinion poll showed the British public were divided on the issue.
Asked about the interview, some 47% of people said it was inappropriate, while 21% said it was appropriate and 31% didn't know.
American media has also been leading with the story, and Sky News US correspondent Greg Milam said people were "astonished" at what they heard.
Sky's royal correspondent, Rhiannon Mills, said the content of the interview meant "a dignified silence from the rest of the Royal Family isn't enough to shut this one down".