Former US defence secretary Donald Rumsfeld, who served during the Iraq War under George W Bush, has died aged 88.
His family said: "History may remember him for his extraordinary accomplishments over six decades of public service, but for those who knew him best and whose lives were forever changed as a result, we will remember his unwavering love for his wife Joyce, his family and friends, and the integrity he brought to a life dedicated to country."
Only Robert McNamara served as defense secretary for longer than Mr Rumsfeld who had two stints in the role; under Mr Bush from 2001 until 2006, and under former president Gerald Ford between 1975 and 1977.
As part of the Bush administration, Mr Rumsfeld played a leading role in making the case for the March 2003 invasion of Iraq.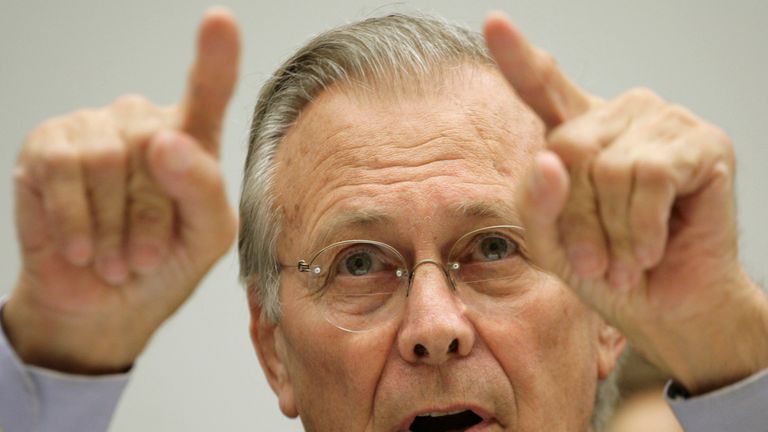 He warned of the dangers of Iraqi weapons of mass destruction but no such weapons were ever discovered.
In 2004, Mr Bush twice refused to accept Mr Rumsfeld's offer to resign after photos surfaced of US personnel abusing prisoners at the Abu Ghraib prison outside Baghdad.
The photos showed American troops smiling, laughing and giving thumbs up as prisoners were forced into sexually abusive and humiliating positions.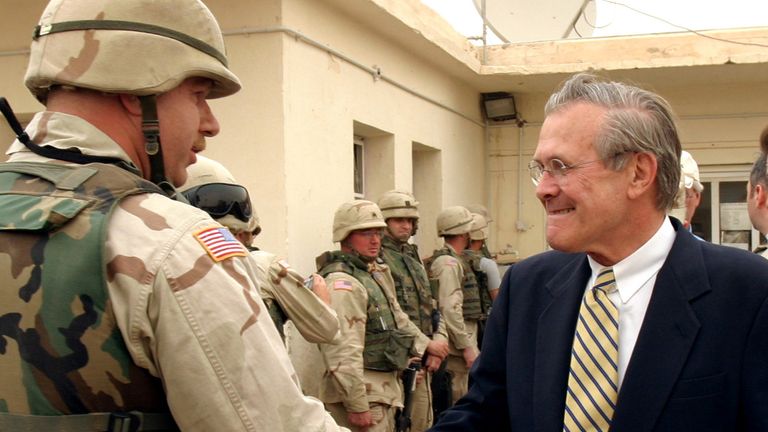 The scandal triggered global condemnation of the United States.
Mr Rumsfeld was known to have personally authorised harsh interrogation techniques for detainees.
He also attracted faced allegations of the mistreatment and torture of detainees and foreign terrorism suspects at a prison set up under his tenure located at Guantanamo Bay, Cuba.